Employment Opportunity
8:16am Jan 29, 2011 by Paul

Technician Employment Opportunity


Qualifications for Employment at ECS Performance:

* MUST Submit a resume with a minimum of 2 related references.
* MUST have the necessary tools required to work on a Turbo
charged performance vehicle, as well as the knowledge to
properly use said tools.

* A Full understanding of how an OBD2 Vehicle functions in both Open
and Closed Loop operation as well as how to diagnose and
interpret OBD/OBD2 trouble codes.

* Prior Subaru experience is a MUST!!!
* MUST be detail oriented, Details are very important to us at ECS.
* MUST be able to work in an ever changing environment, without
allowing your work's quality suffer.

* MUST be flexible with staying late and coming in early if needed.
* MUST be comfortable with being paid on a Salary base.
* Applicants MUST Submit to Drug testing prior to employment.

Please send all resumes to paul AT eastcoastswappers.com <--- This is Required!

We will review all resumes we receive and make a preliminary determination of who we feel is qualified for the job. At which point we will contact you to setup an Interview at our facility in Windsor Locks.


We look forward to hearing from you!

-ECS Peformanc


ECS Performance in PAS Magazine
10:35pm Dec 13, 2010 by Paul
Performance Auto & Sound Magazine Spotlights a shop tour of "Turbokits.com" ECS Performance' Research and Product Development Partner.
Take a tour inside the facilty and behold the exciting future of ECS Performance and TurboKits.com as Dave Pankew spotlights
ECS Performance and TurboKits.com in the latest 'Shop Tour' feature from PAS Magazine! More Details Inside!
ECS becomes CTs Authorized WPC
3:54pm Feb 9, 2010 by Paul

A Quote From Whiteline "A WPC is an authorized specialist tuner with the ability to sell, fit and tune WHITELINE's quality range of suspension product. It is the perfect value add proposition, as with the high complexity of chassis set ups, merely purchasing the product is not enough these days and the ability to service the consumer with technical advice, installation and tuning is where we recognize the opportunity to differentiate our brand from the rest."


ECS is proud to announce that we have become, Whitelines' CT, Performance Center
What is a Whiteline Performance Center you might ask? Follow the link to find out more.
WPC INFO INSIDE!
RiteWire LLC.
10:02pm Jan 18, 2010 by Paul

As of Janurary 1st 2010 ECS Performance has launched a new division. RiteWire LLC. RiteWire will handle all Wiring Conversions. Please direct all wiring related questions and orders to Ritewiresales@gmail.com




Check out our CYBER MONDAY Powerplant Conversion SPECIALS. EPIC SAVINGS!!!
2:14pm Nov 30, 2009 by Kyle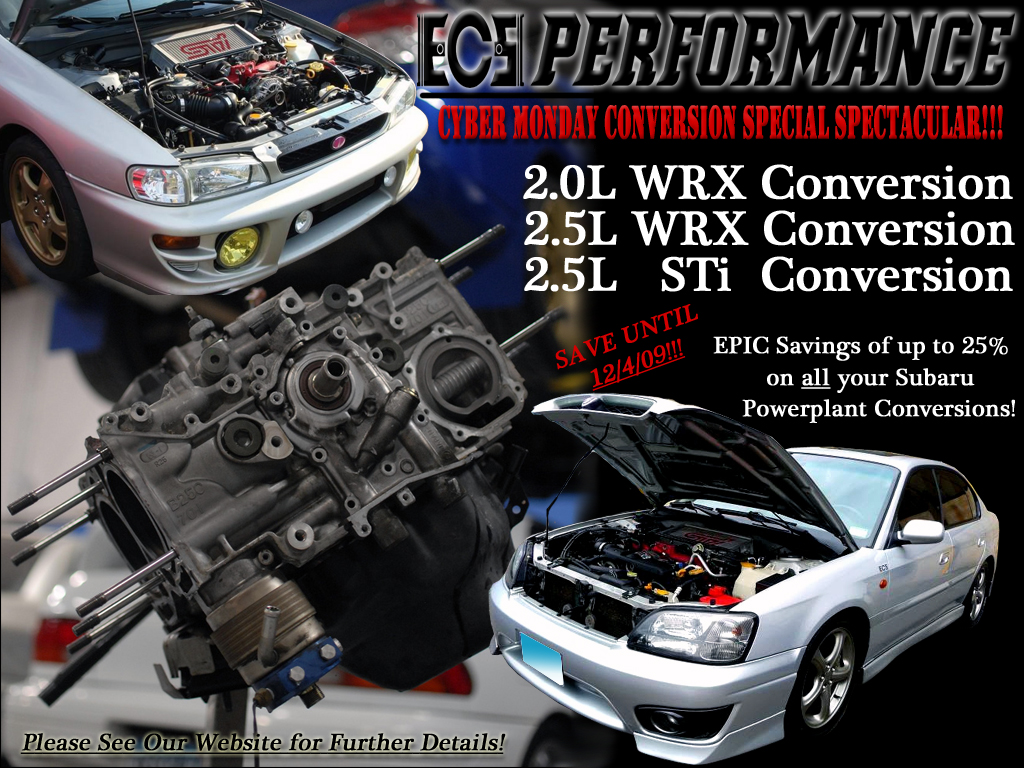 Hi Guys!!!

So, Today is Cyber Monday! Normally a day of awesome deals on computer parts, components, and accessories!

Well, ECS Performance is about to change that! Today, Cyber Monday and the week following becomes SUBARU POWERPLANT CONVERSION DAY!

ECS is slashing, hacking, and mutilating prices on our Powerplant Conversions.


Here below is a price list of what we're talking about! Please click the links below for prices on the conversion of your choice!!!


ECS Performance 2.0L Powerplant Conversion, from a USDM WRX 02-05



ECS Performance 2.5L Powerplant Conversion, from a USDM WRX 06-07



ECS Performance 2.5L Powerplant Conversion, from a USDM STi 04-07


All price quotes posted in the links above are valid from: Monday, November 30th 2009 until Friday, December 4th, 2009.

The reservation of your powerplant conversion will require payment, in advance, for just the parts required to complete your specific conversion. Reception of that payment is considered your conversion deposit, and will reserve your slot with us here at ECS Performance!!! Please call us for information regarding the price of the deposit required for the conversion you desire!





We can be reached by Phone at (860) 758.7644 or via email at Sales@EastCoastSwappers.com


Thank you everyone for your patronage and support, and Happy Holidays from all of us here at ECS Performance!


First Ever Motorcycle Dyno Night at ECS Performance!
1:04pm Oct 1, 2009 by Kyle

Hey Guys!

We want everyone to know that here at ECS Performance we're interested in all your motorized performance needs. Just last night on 9/30/09 we had our first All-Motorcycle Dyno Night!

Keep your eyes peeled on our Gallery for pictures, and our YouTube Channel for videos of the event!

Thanks to all who participated!


ECS Moves to CT
8:10am Jul 11, 2009 by Paul

As of April 2009 ECS now has a new home in Windsor Locks CT. Please come by and check us out, or follow our New Facility Photos in the gallery.


Follow us on YouTube and Facebook!
3:12pm Mar 28, 2009 by Alex

Now you can follow us by subscribing to our YouTube Channel or adding our new Facebook page as one of your favorite pages on Facebook.


Gallery Updates
6:46pm Dec 18, 2008 by Paul

Finally had some time to add about 1/3 of the cars I've been needing to for the past 8 months.


Pricing Change on Wiring Services
9:14am Dec 18, 2008 by Corey

With the competition picking up on the east coast we have decided to lower our pricing on wiring services as low as possible. Keep in mind that ECS Performance is a facility with a ton of over head at this point. We have many Dealers setup throughout the US who carry our wiring harnesses currently, all of you already setup with us will now receive an even better discount than before! If your a shop that would like to inquire about dealer account status, please send an email to sales@eastcoastswappers.com


VP Race Fuels
1:25pm Aug 3, 2008 by Sales

ECS Now carries VP Race Fuels line.


AMS Performance Dealer
8:25pm Jul 29, 2008 by Sales

We are now one of AMS' East Coast Dealers For their amazing product. Check them out at www.amsperformance.com



TireRack Dealer
2:51pm Jul 24, 2008 by Sales

ECS is proud to announce that we are now a Tire Rack Master Dealer. We can get you great prices on Tires, Wheels, and any Suspension and brake components under the sun!



Taking Dealer Applications Today!!
8:43am May 20, 2008 by Paul

Are you a shop who is toying with the idea of doing Subaru Power plant conversions but does not want to deal with the hassle of wiring your customers' car? ECS has the solution!

In addition to our pre-wired swap kit program, We are now taking applications from shops who are interested in receiving Dealer and Jobber rates on our ECS Plug and Play wiring services. Please contact us via Phone or email for specifics.

Requirements: Business Cert, and State Sales and Use tax Identification number.




JUN BL exhaust Systems
5:51pm May 4, 2008 by Paul

We now carry JUN BL Evo 8/9 Exhaust Systems. Please send us an email or give us a call for the best pricing to be found anywhere!


Looking for dealers
10:35am Mar 13, 2008 by Paul

ECS is looking for dealers of our Pre-wired swap kits. If you are a shop who installs engine swaps and already uses our wiring services but would rather purchase full swap kits, which are pre-wired and ready to install at better pricing. Then please contact us at sales@eastcoastswappers.com to setup your dealer account today!


ECS Has a Mascot
8:54am Jan 11, 2008 by Ryan

ECS' Mascot Jenka !


Check It



Modified Mag
11:59am Dec 16, 2007 by Ecs Team

A good friend of ECS, Doug Nelson, has made the cover of Modified Magazine. Props go out to Doug for all his hard work and determination. And Many thanks for props in his article!


Check It




Pro Sport Gauges
10:31am Dec 10, 2007 by ECS Team

ECS Performance now carries the full line of Pro Sport Gauges. They are very comparable to DEFI gauges quality, but can be had at tremendous cost savings. These are priced to sell. Check out RS25.com for the sale thread or give us a call to place your order today!!!


RS25.com For Sale Ad


Haltech
7:02am Nov 30, 2007 by ECS Team

ECS is now a Haltech EMS dealer. Let us know if you need one!


SEMA 2007
9:44pm Oct 30, 2007 by ECS Team

ECS Will be at the 2007 SEMA Auto show in Las Vegas from Tuesday Oct 30th through Saturday Nov 3rd. However, we will still be open, but operating with a limited staff. Check out some of our pictures from the event in the gallery.
ECS 2007 SEMA Convention Picture Index!


Pics and Video From Mid West Subaru Shootout
7:25am Oct 16, 2007 by ECS Team

Pictures and Videos From our trip to Byron Drag way.

Byron Trip




Mid West Subaru Shootout
11:54am Sep 27, 2007 by ECS Team

We will be closing shop Friday September 28 through Sunday the 30th in order to attend the Midwest Subaru Shootout.

Link the Nasioc Thread


ECS Perfromance is on Myspace
12:44pm Jul 26, 2007 by ECS Team

We decided to follow to trend and make a Myspace page, we hope you enjoy it.

Myspace


ECS Joins XX Tuning
11:58am Jul 25, 2007 by ECS Team

ECS Joined the XX Tuning Team this past Sarurday for the CT Subie Meet. ECS' own Vicki Abalan wrote the article that you can view here, along with pics from the event.

Read More!


ECS Perfromance
11:53am Jul 25, 2007 by Paul

ECS Performance website officially launched.